In recent years, marketing and advertising have evolved tremendously. Previously, marketing was done through different social media platforms and search engines but this approach is no longer sufficient for a greater outreach.
To connect with your target audiences, stepping up your marketing game is crucial. After being separated by screens for the past 2 years, the public is ready to engage all their senses while interacting with brands. With experiential marketing in Singapore, brands are not only seeing it as an effective strategy but it is also becoming an increasingly popular one among event planners worldwide.
In this comprehensive guide, you'll learn everything one needs to know about experiential marketing, from what makes experiential design so effective to the different ways and inspirations on how to execute successful experiential marketing campaigns.
But before we dive deeper into this marketing strategy, let's first understand what exactly is experiential marketing.
What is Experiential Marketing?
Experiential marketing is a strategy that revolves around engaging the audience through creative, memorable interactions which can include brand activation, visual merchandising displays, pop-up store designs, and retail interior designs among others. It is also known as engagement marketing, live marketing, or participation marketing as it uses participatory, hands-on and tangible branding material to showcase a particular brand and what it stands for.
Though some strategies involve live events, others can be one-off installations that are crafted for a certain period of time. Through the various engagement methods, experiential marketing has proven to enhance event ROI, making it an essential strategy to master among planners as it is all about creating a fun and memorable experience for the customers.
With the acceleration of hybrid and virtual events that were highly popular during the pandemic, event planners are also incorporating online elements into their physical experiential marketing strategies.
Experiential Marketing Vs. Traditional Marketing Vs. Digital Marketing
Experiential, traditional and digital marketing are marketing strategies that are used to engage customers through different mediums and channels.
Experiential Marketing – Engages the audience through live interaction to create emotional connections between customers and a brand. It's one channel in a multi-channel marketing strategy.
Traditional Marketing – Offline marketing and promotions that include print advertising, billboards, radio commercials and more. It may focus more on highlighting a brand's specific product or service (instead of creating a strong emotional connection).
Digital Marketing – Highlights a brand's product or service online through search engine optimisation, social media, pay-per-click advertising and more.
Experiential marketing incorporates strategies from both traditional and digital marketing. For example, similar to traditional marketing, it meets a brand's target audience in their own environment where a bond can be created between the shoppers and the brand. Like digital marketing, this strategy allows personalisation and interaction online.
But it is also different in two specific ways.
1.Experiential marketing uses multiple senses and not just visual stimulation to create an emotional experience.
2. Experiential marketing's end goal is to create positive sentiment about the product or the brand, and not just to promote the sale of the product.
What Experiential Marketing Is Not
If you were to compare experiential marketing to event marketing or influencer marketing, it is not the same, although it may have a few similar characteristics. Experiential marketing is a strategic approach that aims to establish a deeper connection with the audience through interactive engagement, with a focus on building long-term relationships. While it includes events, it is not limited to traditional marketing campaign tools.
For example, if you are an events management company in Singapore and you are proposing to have a branded photo booth and interactive exhibit installed in an office space, it would be considered an experiential marketing effort and permanent exhibit instead of just a one-time event.
Examples of Experiential Marketing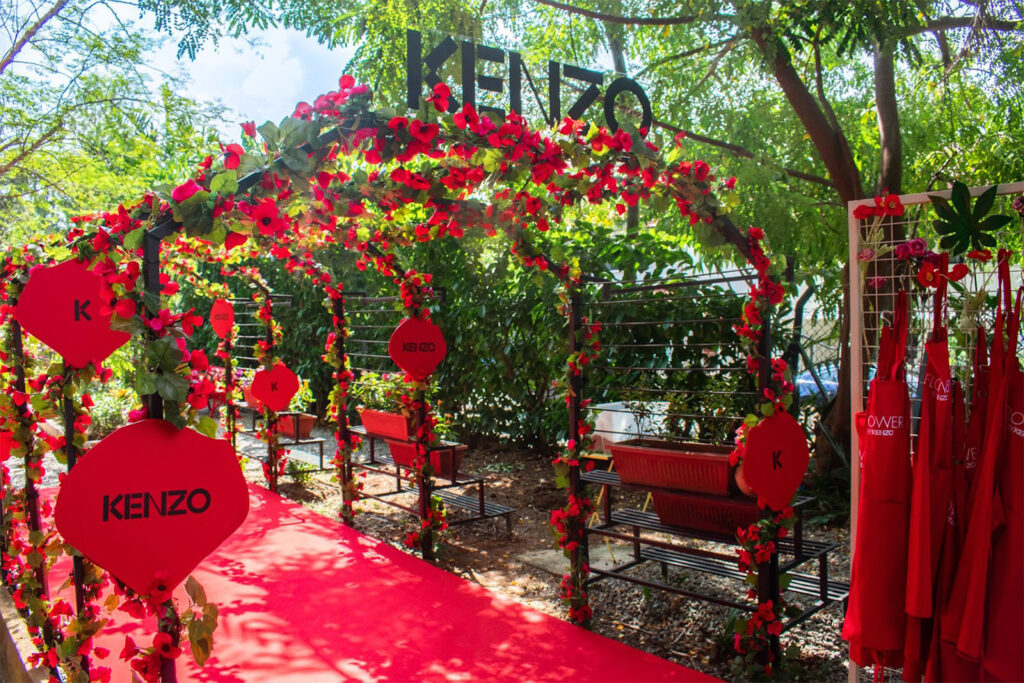 Examples of experiential marketing can include:
• Business events, festivals, award ceremonies
• Activities and kiosks at trade shows
• Samplings or demos
• Unique experiences that highlight the brand's identity
• Retreats
• Ways for brands and loyal customers to do social good together
It is about how a brand enhances memorable experiences for their audiences to create brand awareness and loyalty.
Why is Experiential Marketing Important?
As humans, we naturally gravitate towards brands that resonate with us on an emotional level. By immersing the customers in the story through experiential design, they get to establish a connection with the brand rather than the perception of being advertised and sold to, which is a significant difference in how the audience perceives the brand. Coming up with the best experiential marketing strategies is the first step towards creating a successful experience for you and your customers.
For instance, this is showcased in The Flower by Kenzo L'Absolue x Super Farmers event, an exclusive experiential marketing workshop that emphasised the values of mindfulness and sustainability. At the event, the entrance was adorned with a 2D backdrop showcasing the Flower by Kenzo L'Absolue banner, accentuated by a display of poppies at the bottom. The visual merchandising display was positioned alongside an arrangement of floral garlands and a decorative floral basket, creating an immersive and inviting atmosphere. In the outdoor area, a Parisian garden theme was created, with a floral garland wrapped around a trellis structure, complemented by red carpeted flooring. An ornamented bench was placed in the garden, where baskets of lush bouquets were showcased, providing a visual delight for guests. The meticulous attention to detail in creating an immersive experience made the event stand out and left a lasting impression on attendees.
If you are still uncertain about this marketing strategy, here are several reasons why you should adopt it.
1. Creates Brand Awareness
Experiential marketing, like an exhibition booth display, provides a brand with the ability to engage its target audience in a unique and memorable way through the use of non-traditional marketing methods. As interesting as the campaign gets, this marketing strategy will assist in capturing the crowd's attention and persuading people to remember the brand.
Through different experiences, customers will be able to connect with a brand via their senses, whether it is an engaging sight with captivating commercial interior designs or through touch with product testing. These tangible experiences can help to create stronger bonds between people and services, empowering individuals to genuinely interact with a brand and form a positive impression about it.
2. Boosts Brand Loyalty
Consumers will need to interact with the brand first before they can start building a lasting positive connection with it. Experiential marketing provides experiences that are typically fun, special and memorable.
Loyalty is built or lost every time people have a positive or negative interaction with a brand. Through this strategy, an opportunity is handed to the brand to present its best side to the audience, establishing connections with them that will fuel that loyalty.
3. Creates Authentic Connection
After the pandemic, customers are craving a more personal experience. Experiential marketing gives brands a chance to create an authentic, long-lasting relationship with their target audience through memorable one-on-one experiences.
By immersing consumers in a particular brand through this strategy, a two-way conversation is created which could then also lead to increased brand loyalty.
4. Creates An Opportunity to Receive Immediate Feedback
Reviews and impressions from customers are crucial as they decide the next step forward for a brand. Customer satisfaction is key to building brand loyalty, and listening to their feedback is essential in achieving this. Brands should actively seek feedback to identify any issues, make necessary improvements and build stronger relationships with their customers.
Direct interaction with customers is a highly effective means of obtaining immediate feedback. Brands can achieve this through various channels, such as engaging with customers through brand ambassadors or monitoring social media activity via designated hashtags.
By gaining insights into customer reviews and opinions, brands can tailor their marketing and campaign strategies to maximise customer satisfaction and meet their evolving needs. This approach ensures that brands remain responsive and adaptable, continually improving their offerings and customer loyalty.
Introduction to Hybrid Events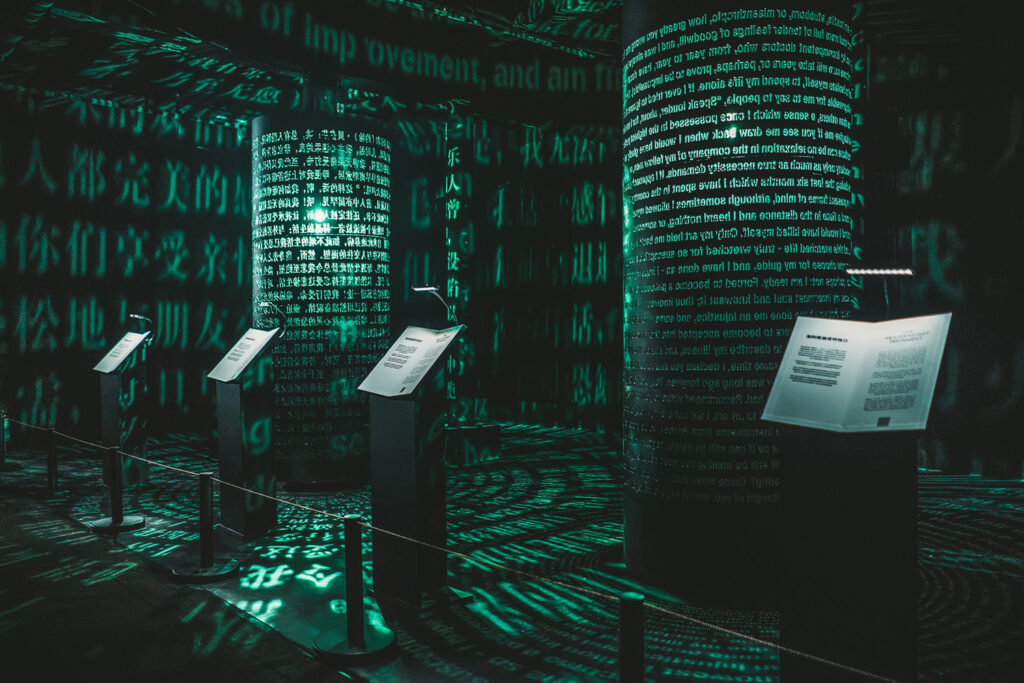 The word hybrid is mentioned over and over lately, especially more so now, with the ease of Covid-19 restrictions. But what does it really mean when it comes to events? A hybrid event uses a combination of in-person and online elements, tailored to each person's needs for optimal experiences.
To understand hybrid events, it is important to know what they are not. Below are some pointers showcasing what hybrid events should not look like:
• A live-streamed in-person event
• An in-person event with a complementary virtual component
• A virtual event with a regional social gathering
• A live event with on-demand content
• Concurrent events with different content and audiences
A hybrid event is specifically designed and personalised for different audiences to promote action and exploration. The in-person audience will be able to experience and engage with your event live, and your virtual audience can explore the campaign and create new connections conveniently from the comfort of their own home.
With the advancement of technology today, it is much easier to create hybrid events that are creative, engaging and effective online. Using traditional audio-visual technology combined with virtual reality, on-demand content and in-person media helps brands create opportunities to build connection and awareness in any environment.
Why Hybrid Events Are Crucial To Experiential Marketing Campaigns
While most events have returned to in-person, digital campaigns will continue to be a popular choice as they provide amazing opportunities for companies to leverage experiential marketing and strategies.
1. Unlimited Potential
Hybrid events aim to create unique and special experiences for both audiences, in-person participants and online guests, all within the same event. It does not define one specific format of events, but instead encompasses different spectrums. With the different types of hybrid formats, you are presented with unlimited opportunities to create fun and interactive ways for your customers to interact and bond with a brand, the speakers and other attendees.
Although the challenge of creating different journeys within the same event will always be there, there are no limitations to creating an unforgettable experience for your audience. You can push the boundaries of creativity to incorporate digital elements to enhance both online and in-person experiences.
2. Cultivating Interests Within The New Generations
One of the most important factors of hybrid events is their accessibility. Not only are they able to reach audiences across borders, but also across generations. The flexibility of a hybrid format allows brands to create unique experiences in the same event that caters to all generations. While most Gen-X and Millennials may prefer to attend events in person, Gen-Z is a generation of digital natives and are strongly attracted to the digital world.
In fact, Gen-Zs are one of the most influential consumer groups for brands today. Growing up in an era of readily available technology and information, they anticipate immediate results and answers from the brands they engage with. Thus, it is important for event management companies in Singapore to create campaigns that enable audiences to establish a deeper connection with a brand, particularly among Gen-Zs. This particular demographic is not afraid to share their opinions, both positive and negative, through reviews and on social media. When they have a positive experience, they will be eager to share it with their peers and followers. Considering your target audience's expectations is the key to making sure the event provides the right value for your customers.
3. A Long-lasting Impact
While physical events are time sensitive, a longer-lasting campaign is necessary to maximise exposure and connect with target audiences. Through digital elements that are incorporated into the events, brands will be able to increase audience engagement for weeks even after the event has ended.
These digital elements can present themselves in the form of video replays of presentations or the whole event. Brands can also maximise their reach on social media by creating topics of discussion on their community page all year round.
4. Sustainability
Sustainability should be taken into consideration when planning experiential marketing campaigns to minimise the environmental impact associated with events. By adopting eco-friendly practices, such as reusing materials whenever possible, brands can promote a more sustainable approach to event and campaign planning. For example, a hybrid event reduces a brand's carbon footprint by reducing the number of people who would be travelling to attend the event.
Brands can also practise sustainability by using plastic-free and biodegradable materials when food is offered at an event. Promotions and advertising can also be done digitally to avoid the usage of paper.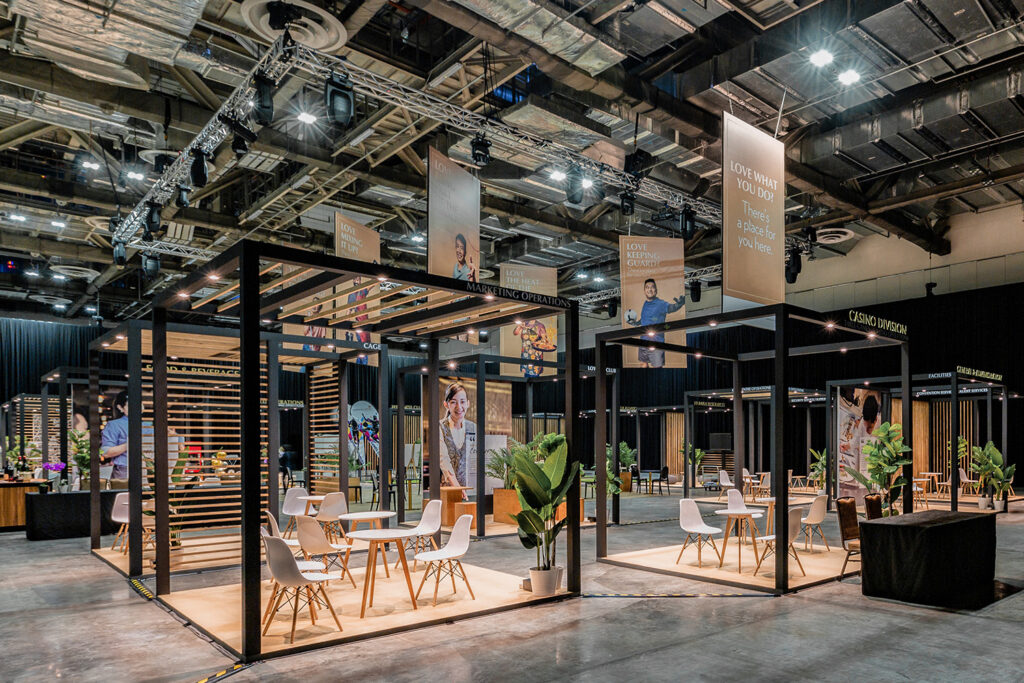 The Marina Bay Sands Career Fair 2023 took a progressive leap towards sustainability, embodying a commitment to environmental consciousness and innovation. One notable aspect of this initiative was the deliberate design and construction of exhibition booths that embraced sustainability principles. These booths were created to be modular, lightweight, and embedded with a concept of reusability, ensuring their potential for future use in various configurations. This approach eliminated the need for excessive materials, minimising waste generation and reducing the carbon footprint associated with traditional booth construction methods.
Organising events is the most fundamental way to create memorable experiences that foster lasting relationships. With hybrid events, more opportunities can be created to attract the attention of newer customers while enhancing the experience of all the event's attendees too.
Hybrid Event Models
A hybrid event can mean a lot of different things. So, it is important to understand the type of hybrid models event planners can choose from when planning a campaign.
1. The Single Venue Model
The single venue hybrid model is where an in-person experience in a single venue is amplified to a virtual audience for wider reach. Often when hybrid events are planned, the single venue event model is commonly used and the key to making this strategy a success is by providing a meaningful experience for both virtual and in-person audiences.
Through the single venue model, brands will be able to see an increase in reach and accessibility by providing attendees with an option to choose the best experience for them based on their logistics and budget considerations.
2. Network Model
A network model uses a combination of 2 or more concurrent in-person events that are connected through a virtual touchpoint. This model allows brands to experience the benefits of smaller, more intimate sessions combined with access to other sessions and attendees in different locations. Technology is the key here in bridging the gap between the different event venues.
Through the network model, events can be designed with local or international needs in mind.
3. Hub and Spoke Model
A hub and spoke model involves a network for different hybrid venues and features a central in-person event. This event will be broadcasted out to different locations to keep the attendee numbers within safety guidelines. The central event will act as the primary stage which will be the base point for different speakers and presenters.
This model provides the excitement of a major event and the reach of a virtual event with face-to-face network capabilities for everyone. Through this model, a brand can connect with a community spanning from all over the world, anchored around a single event experience.
Before picking an event model that would best serve your campaign needs, you should first get a clear understanding of the ultimate goal of your event.
Ideas for Experiential Marketing Events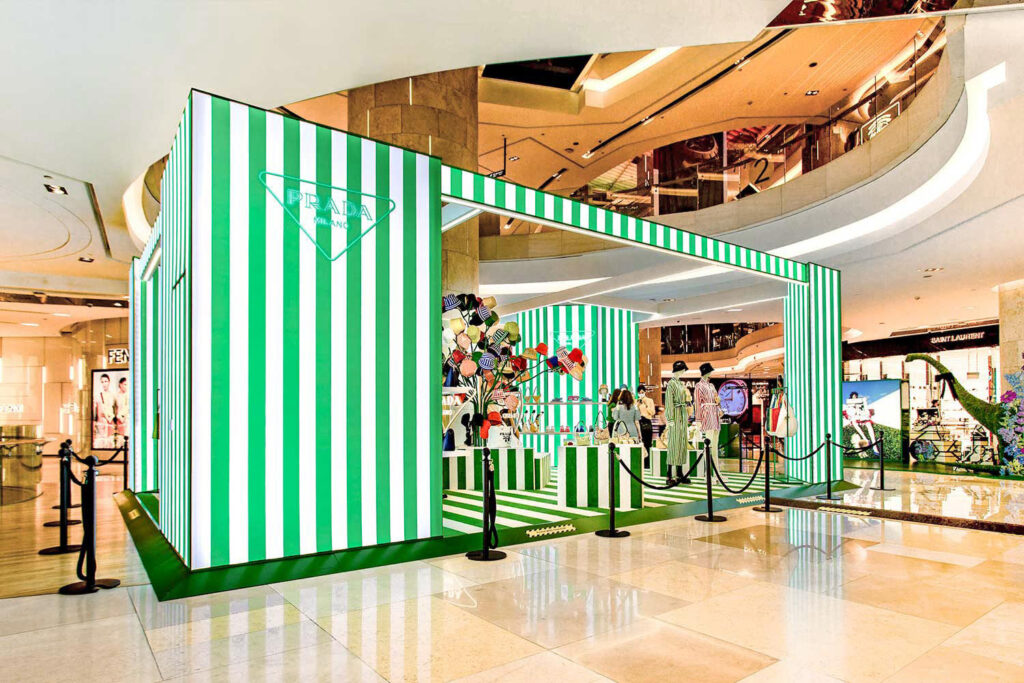 Experiential marketing isn't a one-size-fits-all brand activation approach as it can be infinitely personalised based on a brand's needs. Here are some ideas if you are looking for examples of experiential marketing campaigns.
1. Pop-Ups
Pop-ups are temporary shops or events hosted by brands to promote a new collection and enhance their marketing goals. This campaign idea can be geared towards building a community, getting user feedback, creating hype for a collection, finding brand ambassadors or making sales.
They are usually custom-planned around certain factors of the particular brand or an audience segment.
For example, The Prada "Tropico" experiential pop-up concept store at ION Orchard showcased its island-inspired collection in an array of bold and vibrant colours. Inspired by a landscape of a tropical forest, a tree with a crown of colourful bucket hats growing like leaves set the mood for all shoppers as they explored the space.
2. Classes and Workshops
Participation, experience and added value are all important aspects of an experiential marketing campaign and one way to achieve them all is through a learning experience. When a class or a workshop takes place in person, online or in a hybrid format, inviting your audience to learn with a brand is a great way to connect and build relationships.
A perfect example of this is The Wellness Festival Singapore. It was a multi-sensory pop-up featuring six distinct experiential zones that hosted a variety of engaging activities that have been meticulously designed to enhance holistic well-being. Vibrant corrugated twin wall sheets were integrated into the installations, infusing the environment with dynamic and vivid hues. The interplay of natural light filtering through the translucent sheets produced a mesmerising display of colours and shadows, intensifying the sensory richness of the overall experience. Amidst enchanting foliage plants, a self-standing mirror display and an arrangement of mirrors in various sizes and angles formed an inverted triangle shape, creating a stunning interplay of light, reflection, and perspective.
3. Product Showcases and Launches
Product showcases and launches are the perfect opportunity to connect with your audiences and tell the best story. They are often highly orchestrated and carefully planned, with a focus on generating buzz and excitement around the new product. Product launches can take on many different forms, ranging from large-scale events with elaborate set designs and celebrity endorsements to more intimate gatherings that cater to a specific target audience. The main goal of a product launch is to generate interest and excitement around the new item, with the ultimate objective of driving sales and revenue. Through a launch, a brand would be able to showcase its aesthetics and values as well as create beautiful sensory experiences for the audience, allowing them to engage with the products on a personal level.
The Mercedes-Benz C-Class Launch featured the brand new C-class series with a variety of new enhancements. The usage of blue luminous light complemented the atmosphere of the launch and towering steel displays allowed customers to experience the brand in full class and glory.
4. Contests
Giveaways, competitions and social media campaigns that involve unlocking a unique experience through contests are great examples of experiential marketing. A brand can start by asking its followers to participate for a chance to win by answering questions related to the brand or product or sharing a certain item on their personal social media page. This process would allow brands to gain new followers and feedback, and create user-generated content to gain more exposure to a wider audience.
5. Virtual and Hybrid Events
Memorable experiences don't have to take place in person to be impactful. As long as campaigns are built around creating connections that are enjoyable and impactful enough to generate positive emotions, hybrid and virtual events can work wonders just like any other in-person events.
6. Internal Events
Experiential marketing is not just for external audiences. Brands can even engage their own employees, create deeper connections with them and provide them with valuable, memorable experiences through internal events. Not only will these events promote a positive working environment, but they can also enhance productivity and efficiency.
7. Mix It Up
Different modes of experiential marketing can be combined to create a fully customisable brand campaign.
This idea was showcased through the Subway Big Museum of Taste which featured a themed experience comprising nine interactive installations located within four themed zones full of activities and games. The exhibition design of the Subway Museum also features interactive infographic displays, custom-made 3D photo ops and exterior game consoles.
Experiential marketing uses the unique power of immersive experiences to create a personalised connection between individuals and brands. Unlike traditional marketing approaches that rely on verbal messaging, experiential marketing prioritises dynamic, interactive displays that encourage active participation and engagement. By creating an unforgettable sensory experience, brands can effectively demonstrate their values, build trust, and foster meaningful, long-term relationships with their audience.
As in-person events are starting again, there is no denying the power virtual events have. This is why hybrid events, with the help of experiential marketing, will be the go-to strategy for years to come. These events will blend a variety of experiences into one big experience, allowing greater opportunities for sharing, connecting and exploring.
Dezign Format is a professional design and build company with extensive experience in event management in Singapore that provides comprehensive support for both planning and executing of experiential marketing campaigns. Leveraging our expertise, we help brands create immersive experiences that resonate with their target audience. Get in touch with us today to discuss your next project with our team of experts.