Technology has revolutionised the way we interact with the world and the museum industry is no exception. Gone are the days of passive observation, as technology has infused the realm of museum exhibition design with interactivity, multimedia, and augmented reality experiences. These advancements have redefined the museum experience, enriching visitors' ability to learn, discover, and engage with captivating topics in ways that are both informative and unforgettable.
As businesses in Singapore seek to create compelling experiential designs that captivate audiences, it is crucial to recognise the pivotal role technology plays in achieving that goal. Join us as we uncover the possibilities that await and discover how partnering with Dezign Format, a leading museum exhibition design company, can transform your vision into reality.
Interactive Exhibits for Immersive Learning Experiences
One of the most noticeable advancements in museum exhibition design is the rise of interactive exhibits. These innovative installations allow visitors to engage with museum content in a more immersive and hands-on manner. From touchscreens and virtual reality experiences to motion-sensor displays, interactive exhibits delight audiences of all ages.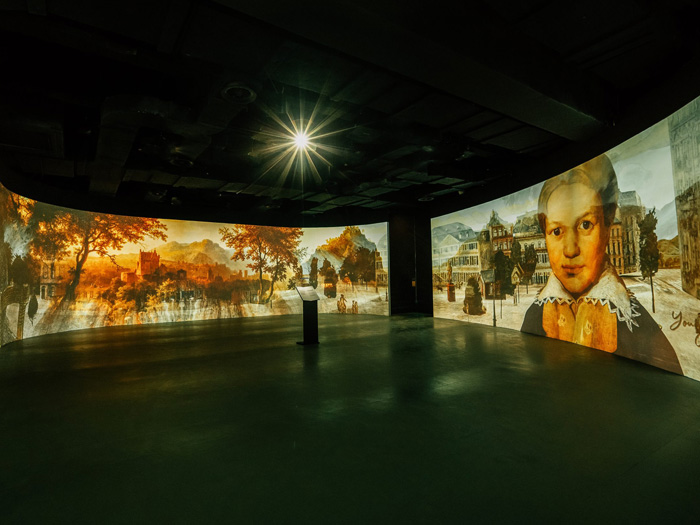 At Dezign Format, our team understands the power of interactivity in creating memorable exhibition booths. One such example is The Beethoven Experience, an immersive exhibition we meticulously crafted to take visitors on an artistic journey through the life and work of Beethoven. The exhibition incorporated innovative features, such as tactile visualisations of the Fifth Symphony and an alluring 360º panoramic movie showcase that transported visitors into the mind and world of the legendary composer. To immerse visitors of all ages in an educational exhibition like no other, an interactive display came to life as coloured patterns dynamically projected onto a screen responded to the movements of each visitor. This enchanting visual spectacle ingeniously created a truly multisensory encounter that deepened one's connection with the music and its creator.
Learn more: How Immersive Marketing Experiences Can Captivate Your Audiences
Multimedia Displays Bringing Exhibits to Life
Technology has made it easier than ever to incorporate multimedia elements as part of exhibition booth displays. In Singapore, where experiential design is highly valued, multimedia displays play a crucial role in enhancing visitor engagement. From vibrant videos and captivating soundscapes to digital displays and animated visuals, multimedia elements add depth and richness to exhibits, making them more dynamic and engaging.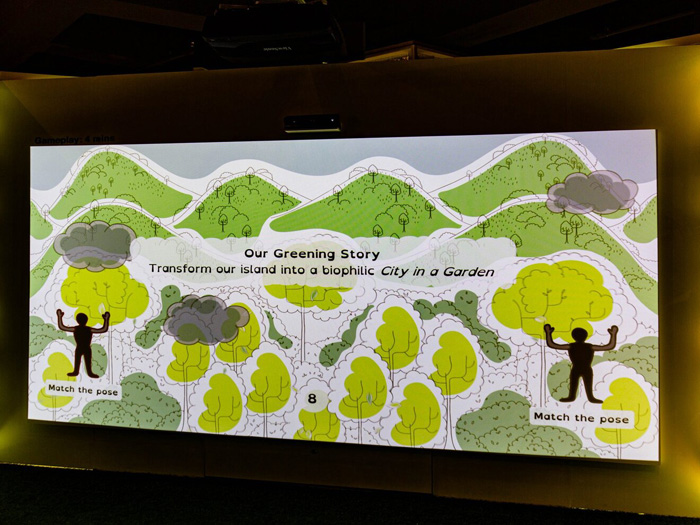 At Dezign Format, our core capabilities revolve around crafting captivating and all-encompassing multimedia experiences. The Urban Mutations exhibition design was meticulously curated with dynamic representations of cities from around the world, seamlessly merging visualisations to form a fascinating multimedia display. This immersive approach enabled visitors to explore and dissect the internal workings that contribute to the vitality of a thriving metropolis. To ensure a fully engaging experience, we incorporated headphone stations throughout the exhibit. These stations provided visitors with audio-triggering experiences, allowing them to delve deeper into the narrative and gain a comprehensive understanding of the informative displays.
Augmented Reality to Unlock New Dimensions
Augmented reality (AR) technology is poised to transform the museum experience by overlaying digital elements onto the physical world. AR adds an extra layer of information and context to exhibition booths, providing visitors with a deeper understanding and appreciation of the content. Through the use of mobile devices or specialised headsets, visitors can unlock hidden stories, view 3D models, and engage with virtual artefacts.
Learn more: Guide to Creating a Stimulating Museum Exhibition Design
Personalised and Customised Experiences to Enhance Visitor Satisfaction
It is important to understand that each individual possesses distinct interests, preferences, and learning styles, and thus, tailoring services to cater to those individualities is essential. By leveraging technology, museums can now offer tailored experiences that cater to the individual needs and desires of their visitors. For example, touchscreens or interactive kiosks can present visitors with options to delve deeper into specific topics or choose different routes through the exhibition booths. This empowers visitors to shape their own journeys and engage with content that aligns with their interests.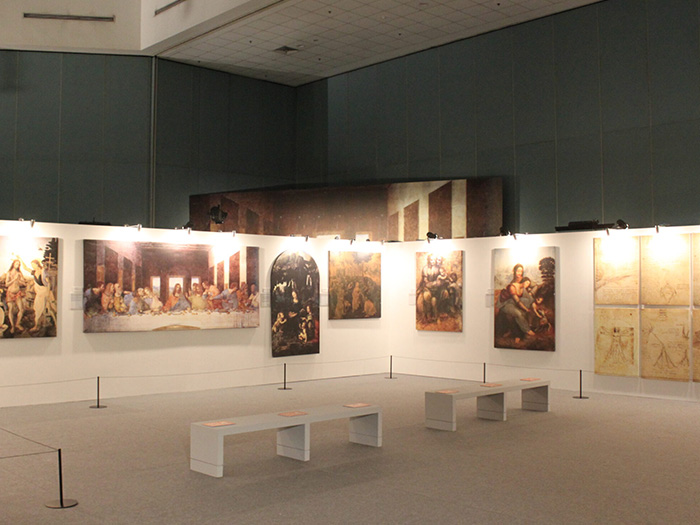 Dezign Format designed Da Vinci, The Exhibition to combine fine art displays with interactive mediums to vividly depict Leonardo's imagination and discoveries. The exhibition design incorporated interactive elements that invited visitors to explore Leonardo's mind and dive deeper into his imaginative world. By engaging with interactive displays, visitors could unravel the artist's theories and innovations, gaining a firsthand experience of his creative process. Other interactive displays and replicas of renowned artworks also offered visitors the flexibility to navigate the exhibition at their own pace, choosing which aspects of Leonardo's journey to explore based on their interests.
Where Art and Technology Converge
If you are aiming to captivate and educate your audiences through immersive experiential designs, an indispensable step is partnering with a professional exhibition design company like Dezign Format.
With our expertise in incorporating technology seamlessly into exhibition design, we can help you create immersive and interactive experiences that leave a long-lasting impression.