Retail stores have long been a staple of the business world, offering shoppers the ability to browse and purchase items in person. However, with the rise of e-commerce and online shopping, brick-and-mortar retailers have had to find new and creative ways to attract customers to their stores. This is where experiential retail comes in, offering a unique and engaging shopping experience that cannot be replicated online.
Learn More — Brand Activation Ideas For Retail And Pop-Up Stores
What Is Experiential Retail?
Experiential retail is all about making physical shopping an exciting and engaging experience for the customer. It goes beyond selling products to customers; it involves creating a memorable and personalised experience that fosters emotional connections with the brand, product, and shopping environment. Whether it's a pop-up shop that transports customers to a different realm or an in-store workshop that teaches them how to use your products, experiential retail extends beyond the traditional transactional nature of retail.
Benefits Of Experiential Retail
Some of the key benefits of experiential retail include:
1. Enhance Your Buyers' Experiences
In the highly competitive retail market, providing a generic shopping experience simply won't be enough. One way retail interior design adds a personal touch is by creating distinct sections or zones within the store that cater to specific customer preferences. For example, a fashion retailer might create separate sections for different clothing styles and occasions, such as casual wear or formal attire. This could help to create emotional bonds with new customers and strengthen the bond with existing ones, increasing customer satisfaction and sales. It also has the potential to generate positive word-of-mouth recommendations, which can be invaluable since people tend to place greater trust in the opinions of their peers.
2. Create Opportunities For Social Engagement
Experiential retail gives you the opportunity to create a space where customers can interact with each other, share their experiences, and build a sense of community around your brand. By hosting community events and workshops, you're not only providing customers with a unique and engaging experience, but also giving them a chance to connect with others who share similar interests and values as them. When customers perceive themselves as part of a tribe, their emotional connection with your brand strengthens significantly. This effect is further amplified when their friends are also ardent supporters of the same brand.
3. Build Brand Loyalty
With the power to create an emotional connection between the shopper and your business, experiential retail leads to increased brand loyalty and repeated purchases. When customers experience contentment with a purchase or a brand, or when they find satisfaction in exceptional customer service, a profound sense of attachment is nurtured. This attachment becomes intertwined with positive experiences and cherished memories, fostering a resilient and enduring bond that withstands the test of time.
4. Increase Foot Traffic
In today's fast-paced and online-focused world, attracting new customers to your physical store can be a challenge. However, creating a unique and engaging experience through experiential retail enables you to stand out from online retailers and other physical stores alike. It allows you to create a memorable and personalised experience for your customers, which could pique their interest and encourage them to visit your store more often and possibly even bring their friends along too. You can also create buzz around your campaign and generate viral marketing, a great tool in the current social media-driven culture, where everyone is eager to share their experiences with their friends and followers.
Ideas On How To Drive Traffic To Your Store
Let's explore some exciting ideas on how you can drive more traffic to your store.
1. Pop-Up Campaigns
Pop-up campaigns are a fantastic way to bring your store to the customers — imagine a mobile store showcasing your products and creating buzz. Furthermore, engaging with customers at different locations provides exposure to different target audiences, expanding your customer base and increasing brand awareness. Whether it's festivals, trade shows, or outdoor events, these brand activation campaigns definitely offer a unique experience that will keep your customers coming back for more! Some visitors may even be inclined to drop by one of the brand's permanent stores as a result.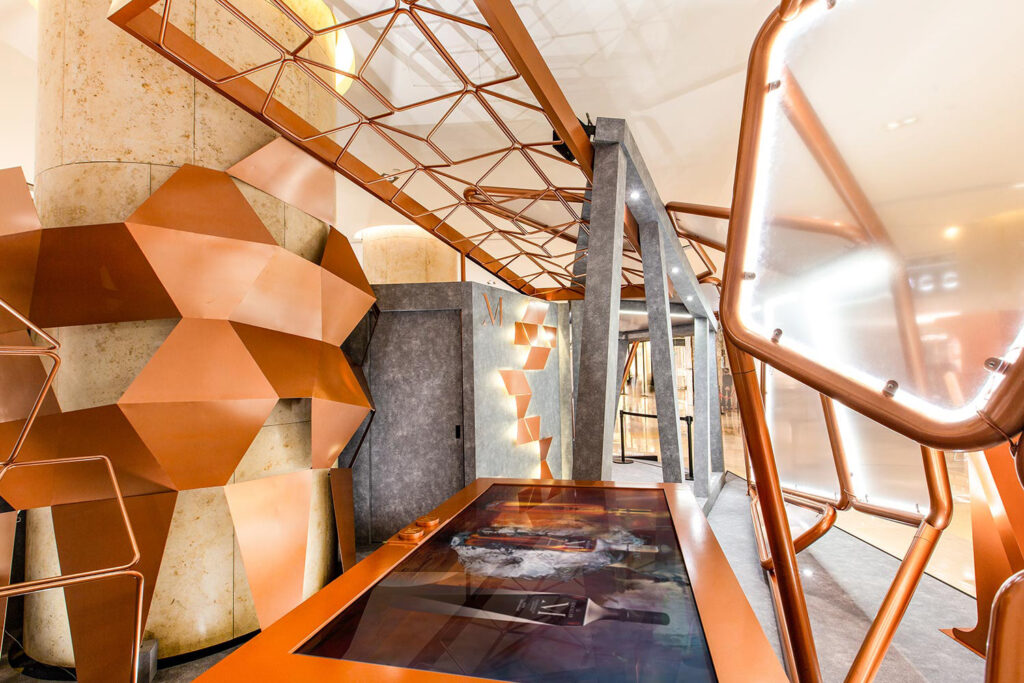 The Macallan M Collection by the renowned distillery house, The Macallan, presented their latest releases through a pop-up which featured copper-coloured metal frames paired with custom-made elevation in an ash-grey laminate finish. The team at Dezign Format designed and fabricated both the facade as well as the interior fit-out with an interactive bar table and touch-screen information panels. Through this pop-up, guests got to indulge in the rich and robust character of the spirits in a private bar, allowing them to experience the ultimate symbol of craftsmanship and contemporary luxury, resulting in a memorable impression left on the customers, driving sales and loyalty for the brand.
2. Hosting Community-Focused Events
To engage with your local community and create a sense of belonging around your brand, hosting a community-focused event can be a great option. These events can range from hosting workshops and classes to organising charity events and product launches. This helps your business attract new customers, creating a positive brand image and building long-lasting brand loyalty.

Nestled in the heart of the Orchard Road district, the House Of Dior celebrated the end of the year with an exclusive brand activation event, The Atelier of Dreams. This event featured three experiential zones, drawing inspiration from the tranquil gardens of Le Château de La Colle Noire. The Atelier Of Dreams also had personalised holiday gifting services offered at the bespoke gift station, furnished with an area for wrapping services with visual merchandising displays, cabinets, and a backdrop, dressed in gold foil patterns. Through this event, guests had the opportunity to immerse themselves in Dior's iconic selection of perfumes and cosmetics collections, while experiencing a sense of being transported to France. It created a sense of emotional attachment to the brand and its products, leaving a lasting impression on customers.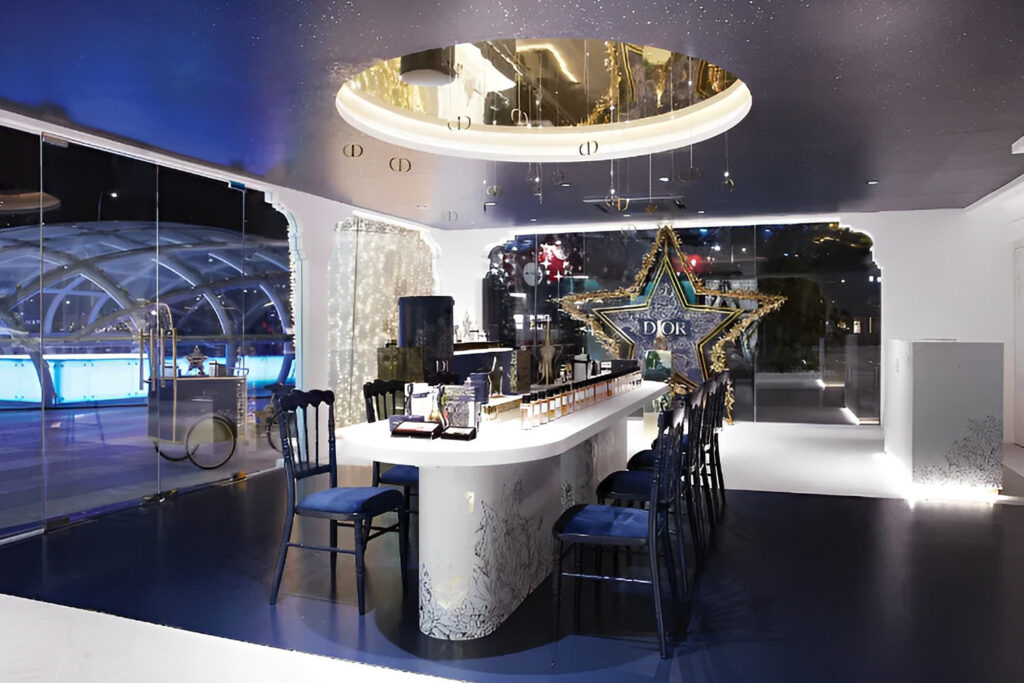 3. Hands-On Workshops
Hands-on workshops are interactive classes which can range from product demos to immersive DIY experiences, allowing customers to learn how to use your products or create their own unique designs. These workshops present the opportunity to not only create a more personalised shopping experience, but also to attract new customers who are interested in the unique and engaging experiences that your store offers.
4. In-Store Co-Branding Initiatives
Collaborating with other brands or social influencers through in-store co-branding initiatives can be a great way to drive traffic and attract new customers to your store. Teaming up with other businesses or individuals to create an exclusive product line is a strategic collaboration that allows you to tap into their established audience, generating a heightened sense of anticipation and excitement among your customers. Some examples of these co-branding initiatives include –
Launch events — Host a launch event for the new exclusive product line in-store. Invite the collaborating brand or influencer to attend and offer special promotions or discounts for customers who make a purchase on the day of the launch.
Social media campaigns — Create a social media campaign to promote the in-store co-branded product line. This could include sharing behind-the-scenes photos and videos of the collaboration process, running a social media contest, or collaborating with the partnering brand or influencer on a social media takeover.
In-store displays — Create eye-catching in-store displays featuring the co-branded product line. Use signage and other promotional materials to highlight the partnership and communicate the exclusivity of the products.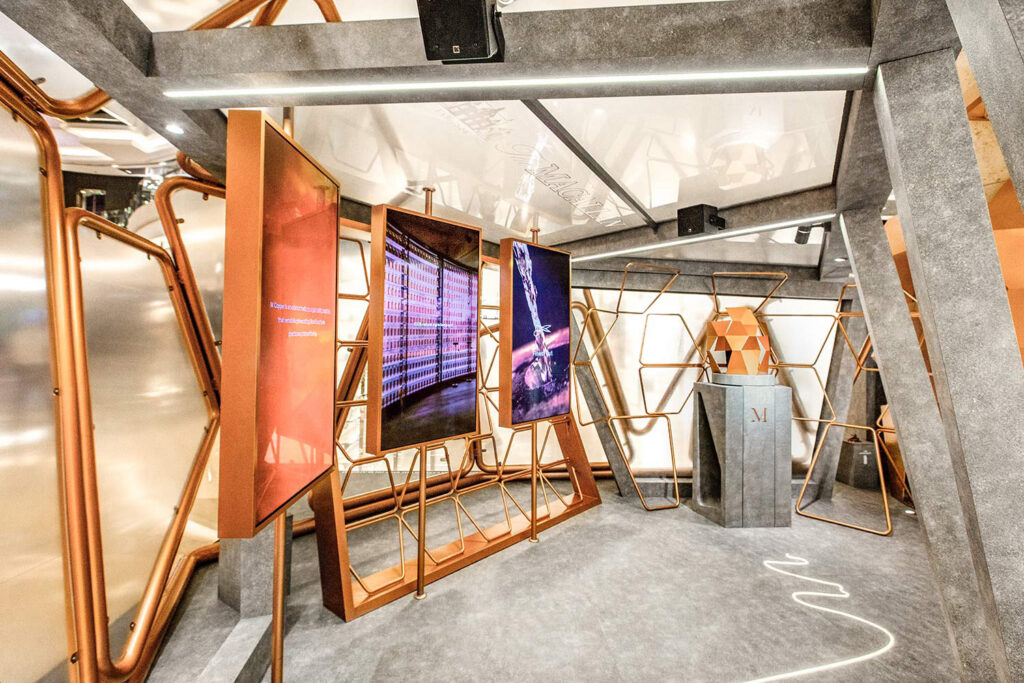 In the current competitive retail landscape, experiential retail is a useful strategy that can help to distinguish your store from the rest. Keep in mind that even though there are many different ways to incorporate experiential retail, the key is to provide a unique and personalised shopping experience that leaves a positive and lasting impression on the customer. If you are looking to create an immersive and memorable in-store experience for your customers, contact Dezign Format today to find out more about design and build services for experiential retail and visual merchandising.