In today's shopping industry, in-store retail is still the top choice among consumers in the worldwide retail market. Contrary to popular belief, people are still looking to have meaningful and memorable brand experiences in a physical store and brands take it as a fun and exciting challenge to engage and interact with their target audience in person. 
But, attracting customers to a physical location is not the only way to make a connection. Based on examples from big brands across the globe, in-person experiences are brought to a whole new level with unique experiential marketing strategies that use both online and offline channels.
One popular example of an activation tactic is through a retail and pop-up strategy. With pop-up activations, customers are given a chance to get up close and personal and fully experience your brand with all their senses in a truly immersive setting. Here are some brand activation ideas for retail/pop-up stores that can effectively enhance the customer shopping experience of your audiences.
Learn More: Ways To Build Lasting Connections With Audiences Through Immersive Experiences
1. Share your brand story and company values in a creative way
Storytelling in general is a powerful tool. With a compelling and authentic brand story, your brand goes from just a product or a service to a brand personality. When you share stories that resonate with your target audience, you're building trust and creating a deeper connection with them.
This idea can be clearly seen in one of Dezign Format's projects- The IWC 150th Year Anniversary Exhibition. To reflect the brand's 150th anniversary, we designed a pop-up booth around the theme of a mechanical watch to reflect IWC in the olden days. Strong classic and industrial styling was leveraged, allowing guests to relive moments in history together with the brand.
To commemorate their 150th year of being in business, the booth display reflected the different mechanisms and complexities inside a watch while creatively aligning the numbers to showcase the year IWC was founded. The display together with the pieces from the new Jubilee collection made the exhibition worth visiting among IWC fans and luxury watch connoisseurs. 
2. Use technology to create an in-store brand experience
Being the best in today's competitive world of retail requires more than just a good product range or competitive pricing. It is important to create an experience that customers can connect with and want to return to. Keeping your customers engaged with your brand is vital and technology is a powerful way to get to know them better. 
Whether it is to enhance your store's physical experience or allow your customers to take ownership of the shopping experience, there are many technology solutions waiting to be explored. It's important to have a variety of approaches to reach different audiences in a natural and comfortable way. Artificial intelligence (AI) can be used at the base level by retailers to automatically change content based on in-store activity to guide customers deeper into the buying process.
One way we incorporated technology to enhance our customer's brand experience was by curating a virtual walk-in wardrobe at Marina Bay Sands. The Virtual Closet was an interactive concept for The Shoppes where shoppers could step into a walk-in wardrobe, with interactive unique display cases and digital mirrors to shop a range of latest Fall and Winter collections from luxury brands like Tom Ford, Burberry and Dolce & Gabbana, to name a few. 
The experience gave shoppers a glimpse of the future of virtual wardrobes, allowing them to swipe through the contents of their wardrobes, saving a great deal of time while getting ready.
3. Feature a custom-branded photo booth experience
Event marketers are experimenting with digital photo booths as a hybrid of experiential and social media marketing to increase their brand's reach on social media by creating an opportunity for customers to capture a memorable moment.
With digital photo booths, brands can overlay photos or animated GIFs with custom graphics, as well as determine what hashtag customers will be prompted to use. Online galleries consolidate photos to enhance the connection between guests and the brand. By exchanging their email address and joining a marketing list at the same time, they are also willing to get their photo, transforming your experiential marketing event into a lead-generation strategy.
For instance, an independent retail store in San Diego, Pigment, mounted a digital photo booth from the ceiling, creating an open space in front of a backdrop draped with flowery greens. Customers were instantly drawn to the open-air photo booth area and were eager to take and share photos. The photo opportunity added a fun and memorable activity to the shopping experience.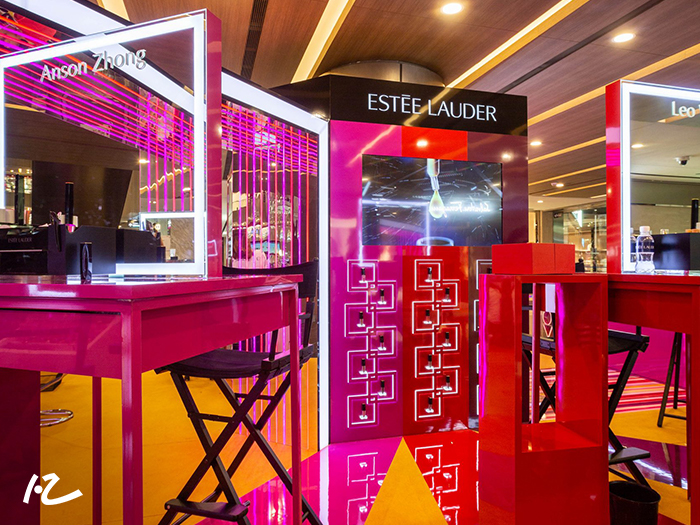 4. Promote free gifts with purchases
Studies suggest that "free gift with purchase" promotions offer shoppers an extra incentive to buy, empowering increased sales, and improved brand loyalty. Survey findings from Harris Interactive found that nearly 90% of free gift receivers said they were "somewhat likely" to buy more frequently from an online retailer after receiving a gift.
At the #PureColorPlayRoom by Estee Lauder pop-up activation designed by Dezign Format where make-up artists offered personalised makeovers, customers were also enticed with personalised products and unique gifts from an interactive gift vending machine.
Pop-up brand activations can be a powerful marketing strategy, helping brands build personal relationships with their customers. With the right strategy, plan, design and display, installation and more, brands can create successful pop-up campaigns that will increase brand awareness, engagement and loyalty. 
If you would like to promote your brand through a pop-up, we would be more than happy to help you out in conceptualising your idea. As an exhibition company in Singapore that's experienced in retail interior design and experiential marketing services in Singapore, we are well-positioned to help you reach your marketing objectives. Do contact us to know more!