In the dynamic world of business conferences, achieving true success involves more than the logistical checklist of securing a venue and extending invitations to esteemed speakers. It transcends the mundane and ventures into the realm of crafting an experience that does not merely fade away once the last applause stops.
It is about weaving a narrative that stays in the minds of attendees, leaving an indelible mark long after the event's curtains close. This is where Dezign Format steps into the spotlight — we are a visionary exhibition company in Singapore dedicated to transforming conference experiences into extraordinary, captivating journeys.
Keep reading to find out how our team at Dezign Format's professional services can help you to curate experiences that elevate conferences to an art form.
Crafting Interactive Displays for Immersive Engagement
At the heart of any unforgettable conference experience lies the power of interactivity. Bring your vision to life through cutting-edge interactive displays incorporated into your exhibition booths. These displays, powered by state-of-the-art technologies like touchscreen interfaces, augmented reality (AR), and virtual reality (VR), are able to transform your conference into a dynamic visual landscape. Attendees can explore interactive exhibits, engage with captivating presentations, and witness live demonstrations that make the content truly come alive.
By leveraging these interactive tools, you not only capture your audience's attention but also enhance their comprehension and retention of the information presented. Attendees become active participants, forging a deeper connection with your content and your brand.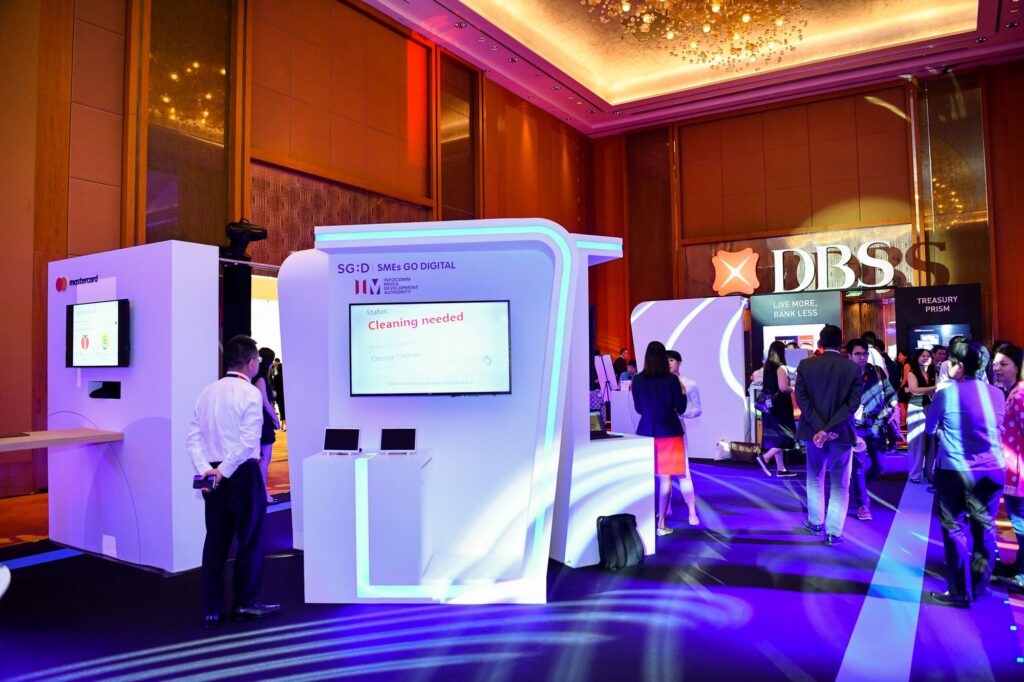 This immersive set-up above was showcased at the DBS Asian Insights Conference where global leaders convened to deliberate the multifaceted impacts catalysed by the ongoing shifts within Asia's landscape. Dezign Format conceived, fabricated, and installed interactive exhibition booths that were intricately crafted to echo DBS's signature red and black corporate hues. These booths also got attendees to mingle and exchange ideas amidst the immersive ambience.
Learn more: Ways to Build Lasting Connections With Audiences Through Immersive Experiences
Enhancing Impact With a Captivating Focal Point
A memorable conference is all about creating focal points that resonate. One effective way to create a lasting memory is through a well-designed stage that sets the tone for the event. Through innovative use of lighting, graphics, decorations, and sound effects, your stage becomes a powerful canvas, amplifying the impact of your speakers and their messages.
As the lights dim and the stage comes to life, attendees are drawn into a visual spectacle. The stage becomes a dynamic storytelling platform, driving home the key takeaways of the conference.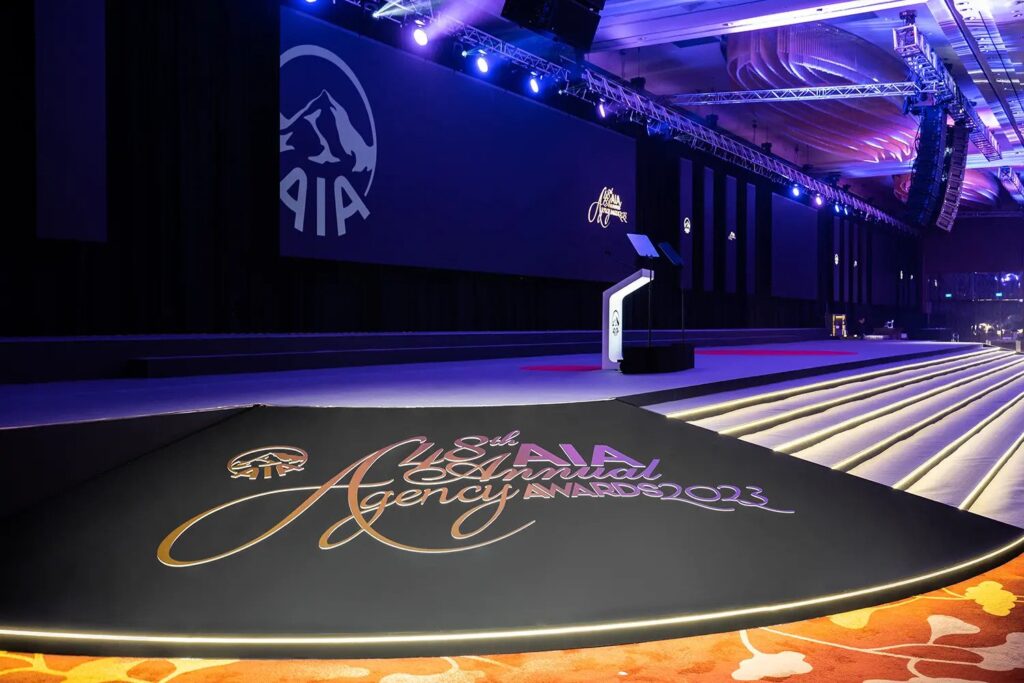 Dezign Format's acute understanding of the pivotal role a well-designed stage plays was exemplified when shaping the very essence of the AIA Agency Awards 2023. Among our creations were the main stage, entrance arch, walk-in runway, backdrop, interactive photo frame standees, and photo wall displays. Extending over 25 metres, the stairs were positioned beside the main stage which was outfitted with carpet flooring and flexi neon light tracing its edges. On the stage's flanks, inclined quadrant platforms were crafted, featuring a pop-up logo display adorned in a refined gold matte finish. Each element came together to craft a stage that stood as a testament to our commitment to infusing conferences with unforgettable moments.
Infusing Venue Decor with Creativity and Charm
The journey to a distinctive conference experience is paved with creative touches. For instance, 2D standees add an extra layer of excitement to your event. Place them strategically throughout the venue to infuse an air of playfulness and intrigue. Envision attendees stumbling upon these standees that effortlessly transition from mere objects to engaging facets of the event, serving both as enlightening exhibition booths and captivating photo backdrops.
Every aspect becomes part of the canvas, telling a story that resonates with your audience.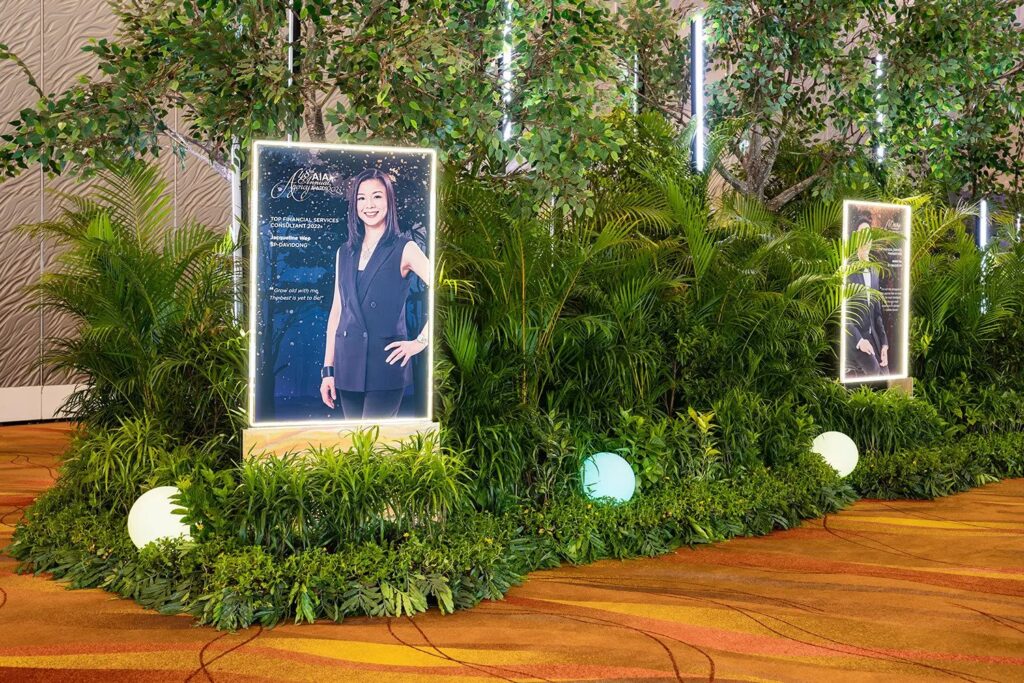 At the illustrious AIA Agency Awards 2023, the photo frame standees took on a new dimension of sophistication. More than just a structure, it stood as an invitation to seize the present and transform it into a timeless memory. Every detail crafted spoke of craftsmanship that echoed the prestige of the occasion.
Craftsmanship and Elegance in Every Detail
The choice of materials speaks volumes about the elegance and luxury of your conference. Premium woods like mahogany, walnut, and oak exude sophistication, while lustrous metals add a touch of style.
Upholstery and drapery choices can transform ordinary spaces into elegant realms. Glossy finishes lend modernity and polish to various surfaces while the use of natural stones such as marble and granite brings an air of opulence to any setting. Every detail should be conscientiously selected to align with your vision and elevate the overall experience of the event.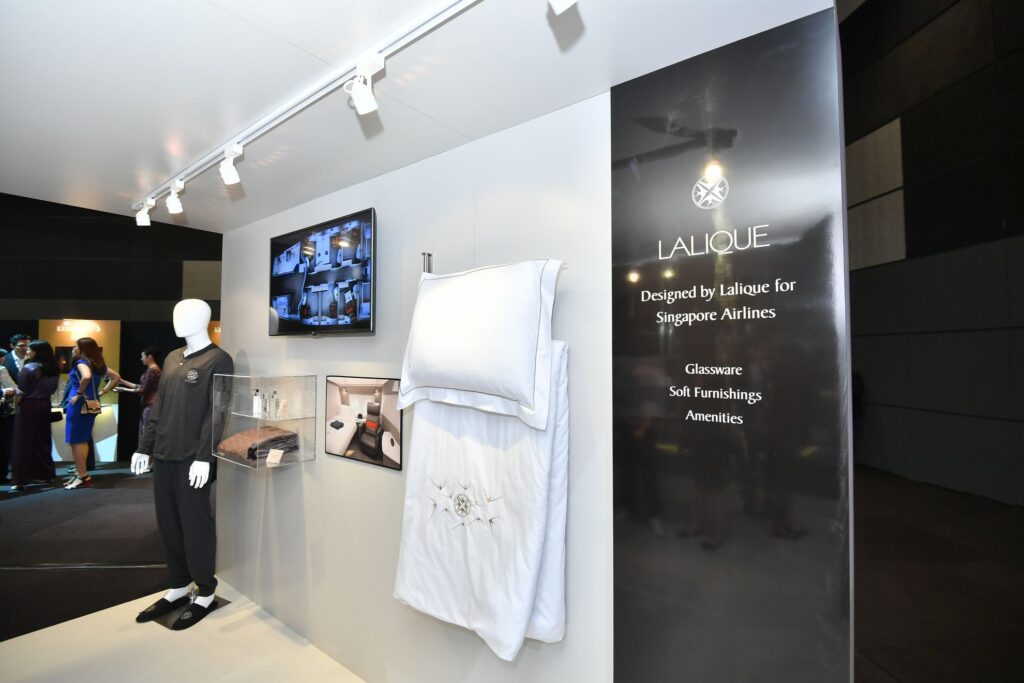 Dezign Format does not just create event installations; we craft immersive experiences using a rich variety of materials and finishes. Our commitment to this artistry is evident in projects like the Singapore Airlines 'A380 Cabin Products Launch'. Within this bespoke experience, attendees engaged with exhibition booths showcasing novel features across various classes where they got to experience the aircraft seats and first-class bedding in a mock cabin set-up.
Forge Memories and Create Impact With Dezign Format
Business conferences often blur into memory but Dezign Format, an exhibition company in Singapore, offers an alternative — a journey that is etched into the minds and hearts of attendees.
As you embark on the quest to create a conference that stands apart, let our team at Dezign Format help you transform your exhibition design into one that engages and inspires.