In the dynamic world of experiential marketing where countless exhibition booths vie for attention, branding is an unsung hero that can make all the difference. Hence, an exhibition booth is not just a physical space; it is a canvas upon which your brand comes to life.
Join us as we delve into the important role of branding in exhibition booth design and discover how it can transform your brand presence into a compelling and memorable experience.
Setting the Stage
Imagine walking into an exhibition hall buzzing with activity. Amidst an array of booths, effective branding can elevate the presence of your brand, captivate audiences, and unlock a myriad of opportunities. Every element of the exhibition design, be it the curated aesthetics or the strategic placement of visuals, orchestrates an immersive experience and a story waiting to be told.
At Dezign Format, a leading design and build company in Singapore, we understand this concept on a profound level. A great example of a captivating exhibition design is the Hyundai Motor Group – LTA-UITP SITCE 2022 booth, built with an open space concept to create an inviting atmosphere, drawing attendees in and encouraging interaction. The carefully thought-out placement of elements like hanging ceiling displays, lightbox panels, and interactive wall panels ensured that Hyundai's brand identity was featured prominently. Every detail of the exhibition design booth was fabricated to provide attendees with an immersive experience with the use of interactive elements, LED push buttons, and informative panels.
Standing Out in the Crowd
When visitors are drawn to your booth by the force of effective branding, you have already achieved a significant advantage. The distinctive visuals, harmonious colour palettes, and strategic placement of your brand elements create an immediate connection. In a world where attention spans are fleeting, standing out is necessary.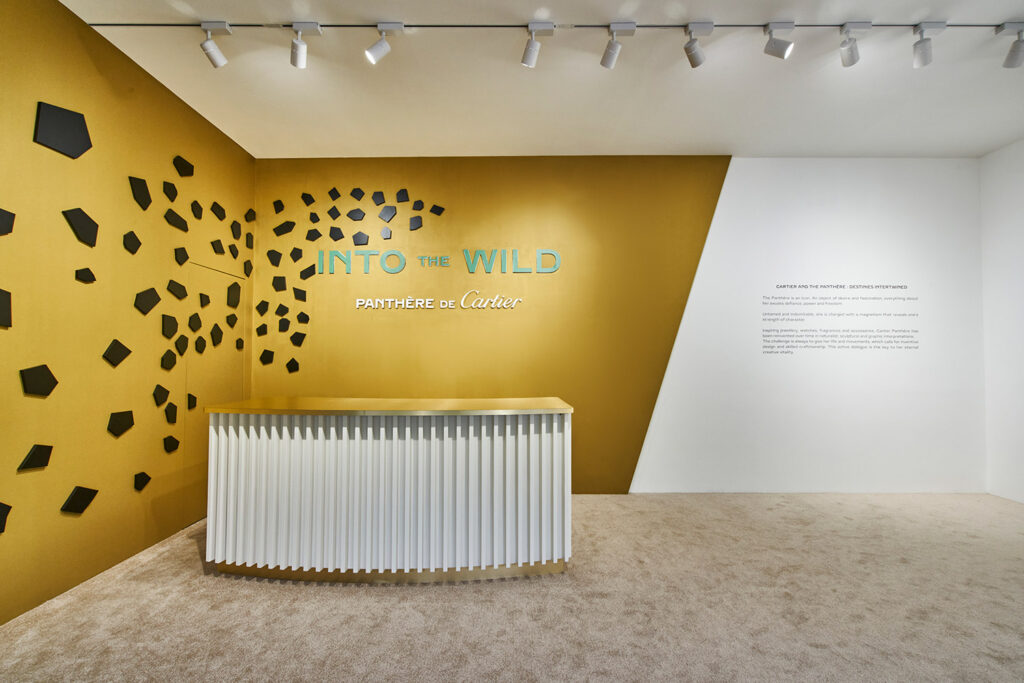 As a design and build company that specialises in experiential marketing experiences, our team at Dezign Format ensures that your booth embodies your brand's essence. This artistry shines in the Cartier 'Into the Wild' exhibition where visitors were invited to not merely explore, but also immerse themselves in the very soul of Cartier's legacy. An interior fit-out dedicated to showcasing Cartier's diverse range of timeless creations was one of the highlights. Venturing further, the visitors were invited to step into the realm of Jeanne Toussaint, Cartier's pioneering female creative director. The very essence of Toussaint's office was conjured, transporting visitors into her world and immersing them in the legacy of the brand she left behind.
Leaving a Lasting Impression
When the exhibition concludes, memories are the only thing that remains. The magic of effective branding lies in its ability to etch an indelible mark in the minds of visitors. When the audience recalls the event, your brand should be at the forefront of their thoughts. This recall factor is the solution to extended brand recognition and positive associations.
Learn more: Myths and Misconceptions About Experiential Marketing
Conveying the Voice of Your Brand
Last but not least, every brand has a story to tell — a narrative that encapsulates its values, mission, and vision. A successful exhibition booth design should be more than visually appealing; it should serve as a storyteller wherevery design element translates your brand story, every colour choice echoes its values, and every layout decision reinforces the company's mission.
This seamless integration of branding and design is Dezign Format's hallmark. As we crafted the Mercedes-Benz Maybach exhibition, a celebration of the brand's centenary, two new models were unveiled. Light concrete textures complemented elegant wooden finishes, a symphony of contrasts harmonised to create an ambience that effortlessly presented the elegance of the brand. In the pursuit of perfection, deluxe and weather-proof materials were meticulously chosen. This selection was not just for aesthetics; it embodied the very spirit of Mercedes' commitment to workmanship and sustainability, as well as the enduring quality of the Maybach cars themselves.
Elevate Your Brand with Dezign Format
Dezign Format does not just create exhibition booths; we curate brand experiences. With a keen understanding of the nuances of effective branding, our team is confident in elevating your booth from a mere physical space to a captivating narrative.
Let us craft your brand's story, one booth at a time — get in touch with our team here!