In this competitive era, it is essential for businesses to invest money in marketing their brand through advertising. One of the ways in which businesses can actively engage their audiences is through brand activation events, which involves creating immersive exhibitions and displays.  Exhibition design plays a critical role in creating a memorable experience for audiences. The displays and structures need  to have enough individuality to stand out from the crowd and make a strong first impression. Even though creating a compelling exhibition design isn't easy, it is not all nerve-racking! Here are some tips for designing  exhibition booths stand or displays that will deliver a great visual impact on your audiences:
1. Establishing Event Goals
Prior to planning your event, it's essential to think about what you hope to achieve and the message you wish to convey to your audience. No matter how over the top your exhibition design or brand activation campaign is, if it fails to reflect your  company's core and story or clearly express your brand's products or services, it will not be successful. That is why it is extremely important to collaborate with a professional exhibition design specialist  to help conceptualise your displays and brand activation campaigns.  
2. Utilising Vertical Space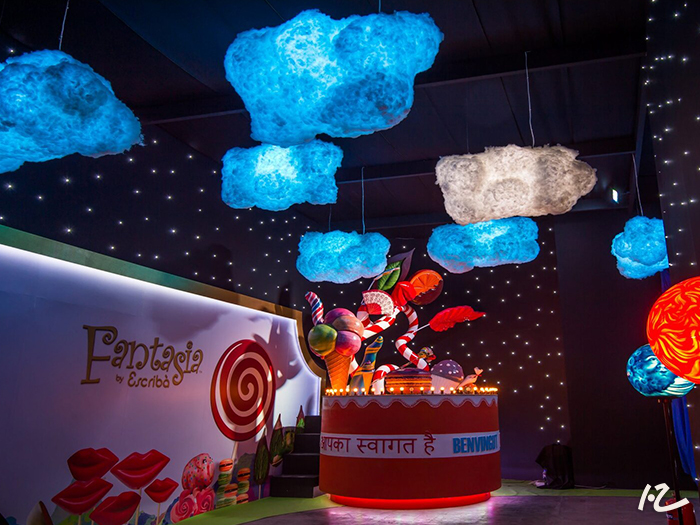 Many exhibition installations have a maximum height limit.  However, if you are fortunate enough to have an event venue with a high ceiling, it  would probably be a good idea to build a floor-to-ceiling exhibition design. When there are no height restrictions for exhibition stands at your event venue, make the most of the vertical space you have. The use of high signage and hanging elements with visually appealing structures will help maximise your exhibition's visibility without sacrificing large amounts of floor space. 
For instance, in Fantasia by Escribà, we created an awe-inspiring experience by including hanging light displays modelled after clouds and giant confectionery masterpieces made from toothsome sweet and savoury treats. The event was held at Marina Bay Sands, which gave us the opportunity to make full use of the venue's vertical space.
3. Attractive Events and Exhibition Booth Visuals
Given the amount of content and events happening in today's age, it is known that morden consumers have a short attention span in order to absorb as much information as they can. Making it more important than ever to convey a message through impactful displays. As exhibition halls are often filled with an overwhelming amount of booths and distracting activities, powerful visuals and signages can help to ensure that your exhibition and booth stands out from afar.
4. Choosing The Right Lighting For Your Exhibition Design 
Lighting  might be overlooked when it comes to exhibition design and planning. A favourable lighting setup makes your display  more visually appealing and can help you create the perfect environment . Don't rely solely on the lighting the venue provides – spotlights, uplights, and fancy lights are powerful ways to draw attention to certain parts of your exhibit.
5. Material Selection 
The material used on your finishing and displays can leave a strong impression on your brand image or goal of your event. For instance, if you're a tech company, try going with a contemporary look that features polished chrome accents to give your exhibition a sense of fresh, cutting-edge aesthetic. In order to give a space a sense of warmth and personality, we recommend adding textured surfaces that incorporate the use of natural materials too.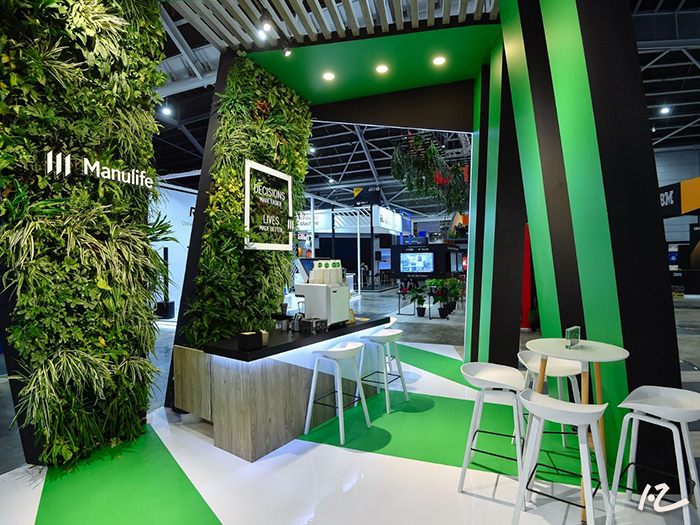 For a modern design,  you can feature sleek chrome accents or brushed aluminium panelling to give your exhibition a sense of contemporary outlook.  During the World's Largest FinTech Event, DBS and Manulife advocated for the development of a sustainable world that has fewer negative impacts on the climate.  With the topic in mind, we constructed an exhibition booth around the theme of "Sustainability" decorated with plants and greeneries  to tie in with the purpose of the exhibition booth and display. The use of content digital screens at the frontage of the booth also eliminated the use of graphic print materials and wastage, thus, reducing the overall carbon footprint produced.
6. Exhibition Flooring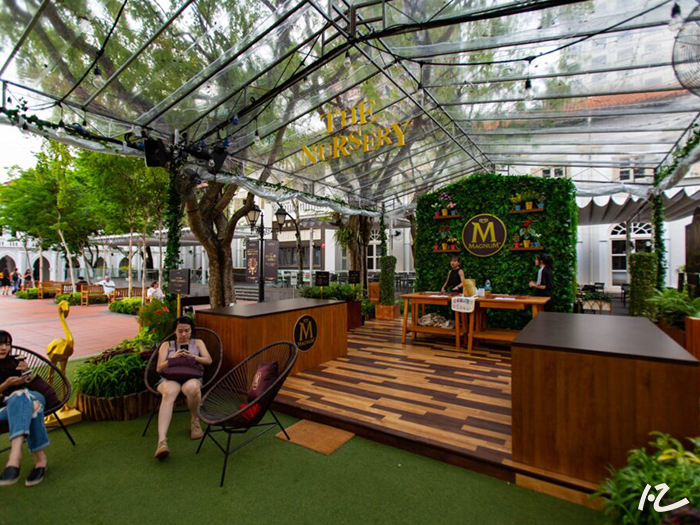 Besides lighting, flooring is  an important interior and design element too! Utilising the right flooring can have a significant effect on the overall look and feel of your experiential marketing event or displays and can change the perspective visitors have of your brand. There is a wide array of choices when it comes to exhibition stand flooring, including carpet, striking graphics, designs that pair well with other features of the exhibition stand such as wood effect floors or synthetic grass carpet.
7. Leverage On Technology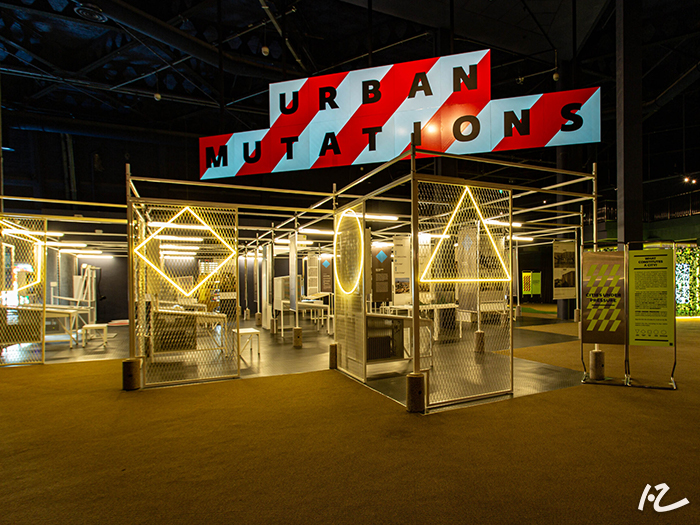 It's always a good idea to include digital displays and interactions in your event or exhibition booth. One can reduce carbon footprint and impress at the same time! A digital product presentation, live prototype demo, and virtual reality sessions are some of the efficient ways for showcasing your products and immersing your audiences, especially for tech companies and educational exhibitions.
8. Creating Immersive Experiences
Capturing and immersing your audience's attention and interest will naturally attract them to your display, product or services. This can be achieved by optimising spatial planning and utilising lights, textures, colour, sound and even scent installations to engage one's five senses. By engaging your audiences through various mediums, you will  leave a lasting impression on your attendees. Here's a look at one of our  thematic projects!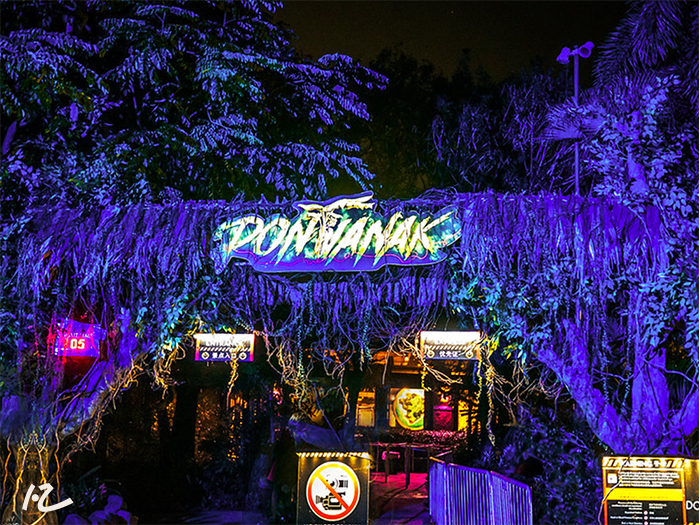 If you're familiar with the annual Halloween Horror Nights affair, you might have seen this haunted house. We  constructed this set for the Pontianak playhouse , where the use of dated items like rattan baskets, vintage radios, and tattered sofa provide an authentic illusion of a real-life kampung to anyone passing through the Zone. 
Designing Customised Exhibition Booth and Displays 
A notable exhibition booth or display design can make a big difference for your brand. The right first impression is crucial when trying to attract interest.  If people never stop by your set-up , they will never learn about your product or service. We hope this article gave you some inspiration for your next set-up!