Have you ever walked into a store and felt immediately drawn to a specific product, even though you had no prior intention of purchasing it? That is the power of effective visual merchandising displays.
When done right, the art of storytelling through visual merchandising creates a journey for customers, draws them in and helps them imagine how products can fit seamlessly into their daily lives. Presenting a lifestyle or feeling that customers can envision for themselves will make them feel more compelled to give the products a try and ultimately make a purchase.
Explore the importance of visual merchandising displays, how they can impact a customer's shopping experience, and ways to create effective displays that captivate and engage.
Learn more: Retail Interior Design and Visual Merchandising Display Considerations
1. Define your brand story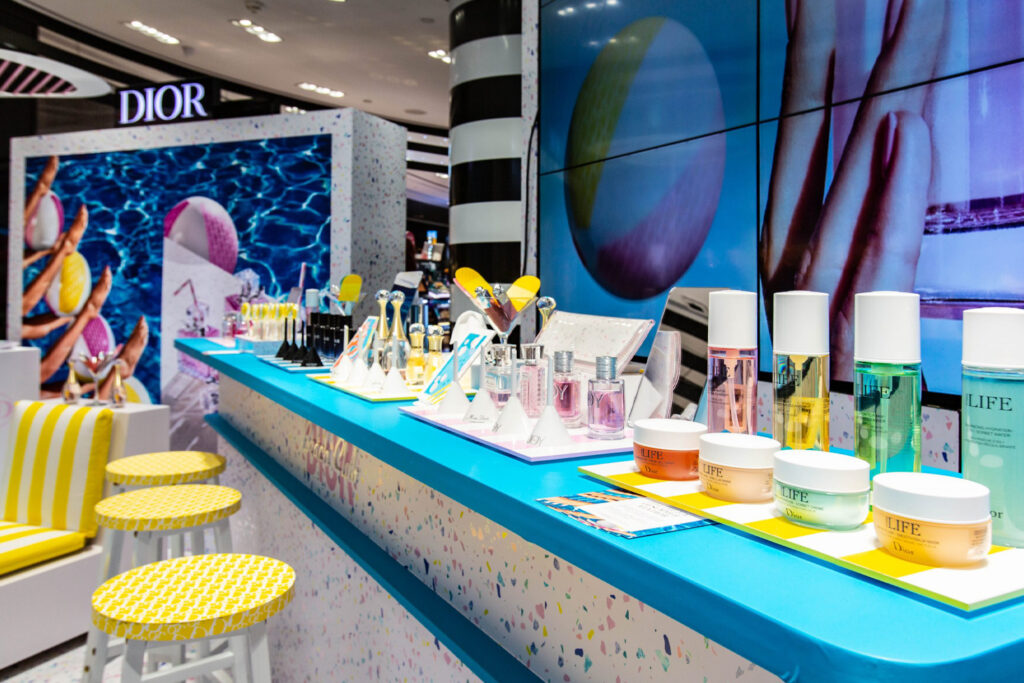 Before diving into the retail interior design process, it is important to take a step back and evaluate what your brand stands for and what sets it apart from the competition. Your brand story should be authentic and genuine to reflect the essence of your label. This means being transparent about your values, beliefs and goals — after all, authenticity is key to building trust with your customers and establishing a loyal following.
Think about how your products or services can improve their lives and make them feel. Then, use language and imagery that is relatable and speaks to their aspirations and desires. Defining your brand story and messaging helps to create coherent and compelling visual merchandising displays that resonate with customers.
The Dior Beach Club Summer Pop-Up is a perfect example of how visual merchandising can be used to create an immersive and unforgettable shopping experience. It showcased Dior's makeup and skincare that was made to last under the heat, while the pop-up offered the guests a fun beach ambience. With a set-up resembling a beach party completed with LED visual panels displaying waves pulsating in rhythmic beats, visitors could soak in the summer vibes while trying on their favourite make-up products, but minus the heat.
2. Create a focal point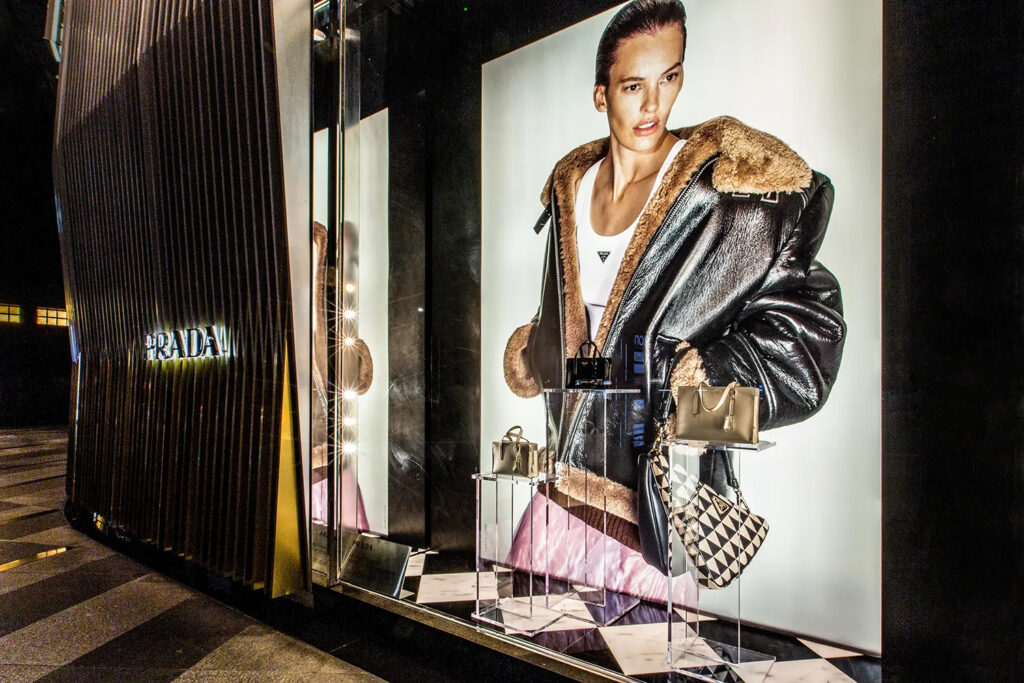 Constructing a focal point in your visual merchandising displays is a powerful technique to capture customers' attention and create a sense of intrigue. A focal point is a visual element that is designed to immediately draw attention and in other words, is a central point of interest in the display. By creating a central theme or storyline, customers are more likely to engage with your products and explore the display in more detail.
Consider using bold and eye-catching colours, unique props, or dynamic lighting techniques. You can also include strategically placed signage or graphics to draw attention to a particular area of the display. Whatever technique you choose, the goal is to create a visual element that fascinates and encourages customers to explore further. Next, craft a central theme or storyline for your display. This could be anything from a colour scheme or a specific product line to a particular mood or feeling that you want to evoke.
The Prada Fall/Winter 2022 campaign embodied the art of storytelling through its visual merchandising displays. Visuals were installed as matte decals at individual backdrops of the window displays while partitions as semi-permanent structures were utilised along with the incorporation of pedestals and angled podiums to create a focal point. This did not only showcase the products in all their glory, but also created a central theme that drew customers into the brand's celebration of individualism and humanity with an emphasis on making an occasion out of the everyday.
3. Use props to enhance the story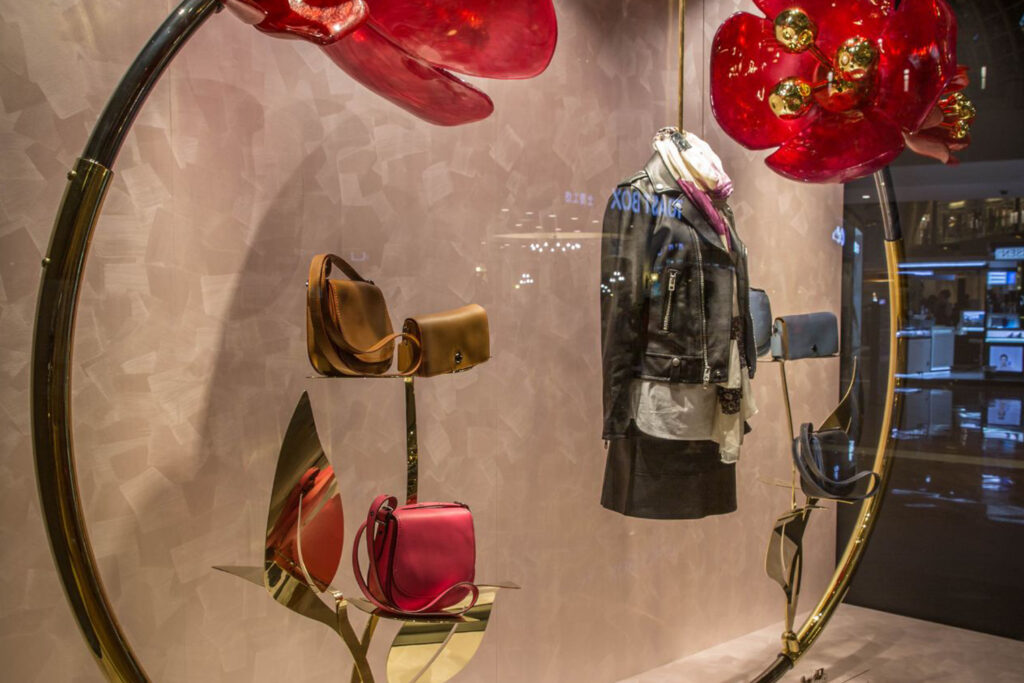 Props add depth to displays and bring the story to life by creating a specific mood, evoking emotions or enhancing the overall aesthetic of your visual merchandising displays. For instance, when creating a display for a beachwear brand, incorporating props such as surfboards, beach umbrellas, or even sand can create a more immersive and memorable shopping experience for customers.
But it is not just about aesthetics; props can come in handy to create a specific mood too. If you are designing a display for a high-end fashion brand, using props such as vintage chandeliers or antique mirrors amps up the luxe factor and resonates with the brand's messaging and identity.
American luxury brand Coach successfully used props to enhance the Boho Vibes theme for its Spring/Summer collection. The use of towering glass flower displays created a visually stunning backdrop that drew customers to the display while the clever incorporation of saddle bags within the weaving leaves added a unique and memorable touch.
Let Dezign Format assist you in telling your story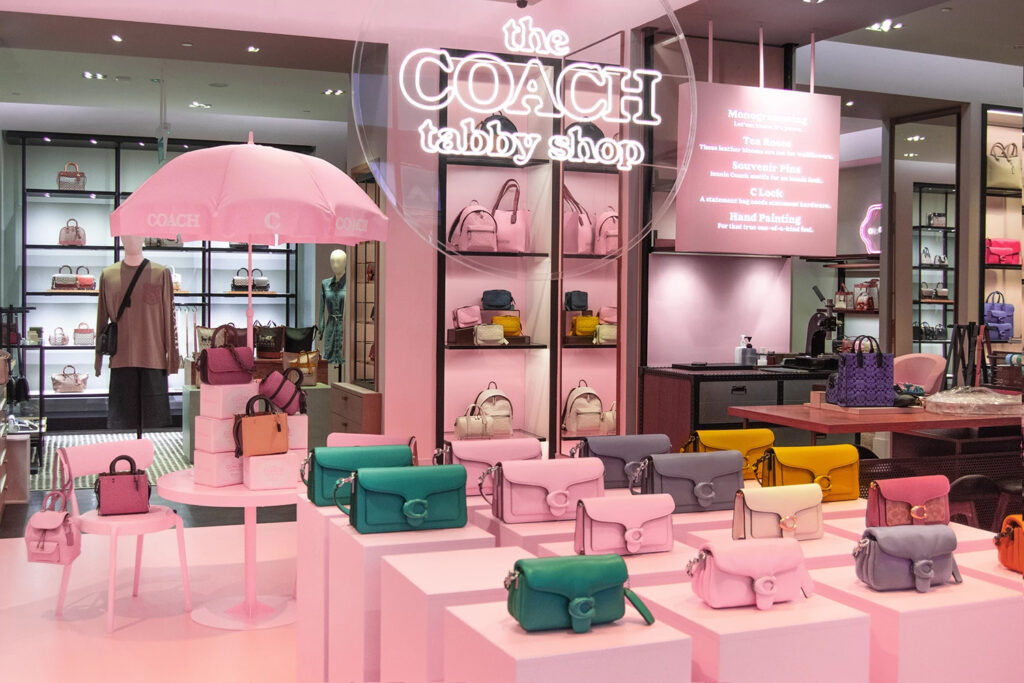 Dezign Format specialises in crafting experiential designs to achieve immersive and collaborative experiences that seamlessly blend functionality with creativity. Our team is passionate about helping you share your brand's story through captivating visual merchandising displays that perfectly capture your brand's identity. 
Learn more: Myths and Misconceptions About Experiential Marketing
Whether you are looking to showcase a new collection or create a memorable shopping experience, we have the skills and expertise to bring your vision to life. Our team is committed to making an impact and leaving a lasting impression on your customers.